Welcome to Hacienda De Milagros!
"House of Miracles"
...Tucson, Arizona's favorite adult care home!
- Currently hiring professional smiling faces!-
Finding the right home for a friend or family member is one of the most important decisions you will ever make. You have found it!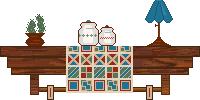 *24 Hour On-Call Nurse*
*Home Cooked Meals and Snacks*
*Medication Dispensing and Monitoring*
*Daily Activities*
*Supervised Outings*
Thank you for visiting! If you have any questions or comments please contact us. We are open 24hrs.
Hacienda De Milagros
10742 E. Avenida Hacienda
Tucson, AZ 85748
Office: 520-546-2111
Fax: 520-546-2998
Cell: 520-440-0828